kirksouthtrout
Baitfish Rank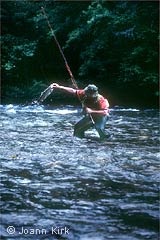 Joined: 26 May 2012
Posts: 11
Total Points: 11

Posted: Fri Jun 15, 2012 9:41 am

Post subject: Bald River Update

---

Fished Bald River (below the campground). Creek is silly with wild rainbows. Above the campground there is lots of brook trout. Had great success on Little River Ant. Did not see another angler the first day, then one the second. It was like old times although trout fishermen appear to be more fashion conscious than in the old days. Do any of you old timers have any thoughts on that, or do I just dress like a hobo when fishing?